Elections 2016: AIADMK candidate tours Teynampet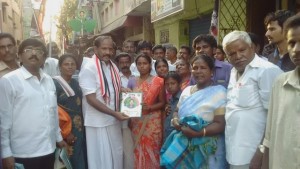 The AIADMK candidate for the Mylapore constituency for the ensuring Assembly, R Natraj did the rounds of Teynampet today as he campaigned for votes in this area. Today being a holiday, the campaigners could attract residents out of their houses and get the word across
The heat of the growing summer days though is keeping people indoors so the campaigners are doing the rounds at dawn ( Natraj was seen meeting walkers at Nageswara Rao Park) and after 4 p.m.
Natraj is having the early bird advantage as his name was announced among the others for the AIADMK early and he has begun work right away.
This entry was posted on Thursday, April 14th, 2016 and is filed under
Elections 2016
. You can follow any responses to this entry through the
RSS 2.0
feed. You can skip to the end and leave a response. Pinging is currently not allowed.