Auto driver waives fee to campaign for Mylapore candidate S. Sheela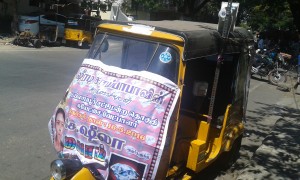 This auto was seen doing the rounds of Madha Church Road, Mandavelipakkam yesterday afternoon (May 14)- on the last day of campaigning. The driver M. Anandhkumar, who has been campaigning for Mylapore S. Sheela for the past week has been doing this free of charge.
He says, "According to the Election Commission, an amount of upto Rs. 1200 per day can be paid to auto drivers whose services are used for campaigning purposes. I have decided not to charge the fee because I believe that Sheela will definitely make a difference if elected. She has been a Mylaporean all her life, is a social worker and understands the needs of the residents here".
This entry was posted on Sunday, May 15th, 2016 and is filed under
Elections 2016
. You can follow any responses to this entry through the
RSS 2.0
feed. You can skip to the end and leave a response. Pinging is currently not allowed.