Workshops: Zentangle and painting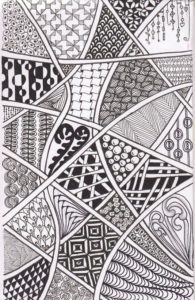 ZENTANGLE  – Learn to create Zentangles with Sandhya Manne and enjoy refreshments from Nandi Shah of Re: Store. The workshop will cover origin of Zentangles, introduction to 6 patterns, creating abstract art and breaking and mastering complex Zentangles. On July 15, 2 p.m. At The Fitroom, Venus Colony. For details call 42139222, 9840657032.
PAINTING – Landscape painting session at Aavishkaar India. Morning and afternoon sessions. Bring your own gear. On July 15, 9 a.m. or 2 p.m. At Aavishkaar India, C. I. T. Colony, Mylapore. For details call 42658628.
This entry was posted on Friday, July 14th, 2017 and is filed under
Arts
,
Events
,
Workshops/ Camps
. You can follow any responses to this entry through the
RSS 2.0
feed. You can skip to the end and leave a response. Pinging is currently not allowed.