MLA plans to spend funds allotted to him to create soak pits to draw in stagnant water during rains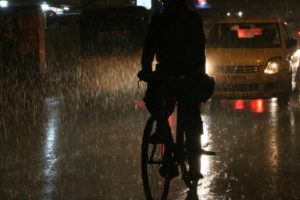 Mylapore's MLA R. Nataraj has made public a plan he has for this area which he must fund with the funds allotted to every MLA. 
To spend about one crore rupees on water conservation projects.
Nataraj made this announcement at a drama festival launch in Mylapore recently.
The plan is to construct over 100 water soaking pits which will draw down rainwater that collects in public spaces, which will then enrich the groundwater levels in this area.
As is the process, the MLA does not get the funds directly; they got to the agency that executes his plans and in this case, the state seems to have directed all MLAs to dedicate a portion of the fund to water conservation.
However, details of how this plan will be executed in Mylapore are not yet in the public domain.
Water conservation expert Shekar Raghavan of Rain Centre says that the pits must be sunk only where water stagnates and where the soil can suck in the water. He points to similar projects undertaken in the Adyar zone – one such was executed around the MTC bus terminus in Besant Nagar, where water stagnation was severe.
He suggests that a Mylapore water stagnation map can be drawn with inputs from Mylaporeans based on their local experiences.
Mylapore Times asked Mylaporeans via social media to report lanes/streets/zones where water flooding took place during the recent rains.
Here is a sample of the posts on Facebook – the names of the reporters and the street/area where water logging takes place are listed.  
Anusha Ashok ; East Abhiramapuram 1st Street
Sandhyashree : P S Sivaswamy Salai ( towards Dr. R K Salai side)
Harish Balasubramanian : P. S. Sivaswamy Salai ( stagnant water stinks)
Sindhuja Babu : near P. S. Senior school zone
Vignesh Subramanian : Nadu Street
Giridharan Sriram : V C Garden Street zone
Ashvini J. : Rangaiah Garden Street ( near Metrowater station on P S Sivasamy Salai)
Narayan Balasubramaniam : Dr R K Salai 6th Street ( has no outlets for water)
Ragini Ramachandran : Srinivasan Street
Smirthy Babu : Dr Rangachari Road
Satish Kumar : Lazarus Church Road
Charanya Rajesh : Thiruvalluvarpet Road
This entry was posted on Monday, August 21st, 2017 and is filed under
Civic
,
Mylapore MLA
. You can follow any responses to this entry through the
RSS 2.0
feed. You can skip to the end and leave a response. Pinging is currently not allowed.