Monsoon: Nov.3 morning: steady rain leaves many streets, roads flooded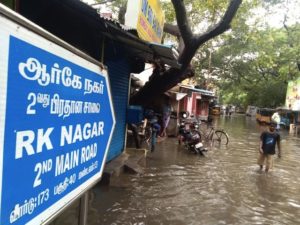 The rains were steady and continuous since 7 p.m. Thursday and by midnight, water began to flood and rise on many streets across the Mylapore neighborhood.
Water entered many houses and apartments on the ground floor.  A colony in R A Puram was badly affected.
Power was switched off in areas where rainwater level rose and TANGEDCO decided to switch off the supply for some time. Most areas though had power supply through the night.
The level of floodwaters in the streets has gone down this morning.
Residents around TTK Road say power was 'off' last night.
People living in the apartment blocks off Srinivasa Road in R A Puram said that water rose in the street last night and entered all the flats at street level but the water has receded a bit this morning. Power was switched off for a short while at night but is on now.
The private colony of Mayflower Garden in R. A. Puram is flooded and residents say they may need to employ a pump to suck out the water.
This entry was posted on Friday, November 3rd, 2017 and is filed under
Civic
,
Monsoon 2017
. You can follow any responses to this entry through the
RSS 2.0
feed. You can skip to the end and leave a response. Pinging is currently not allowed.