Rain-bearing clouds across the Adyar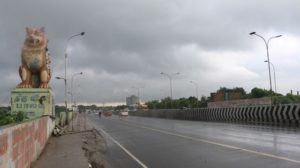 Rain clouds move across the Adyar River area on Tuesday morning. The showers have been on and off since last night and the Mylapore neighbourhood has been experiencing them in parts.
The bridge across the river is a good point to watch the skies at monsoon time.
Photo by Madhan Kumar/ Mylapore Times
This entry was posted on Tuesday, November 7th, 2017 and is filed under
Civic
,
Monsoon 2017
. You can follow any responses to this entry through the
RSS 2.0
feed. You can skip to the end and leave a response. Pinging is currently not allowed.