New gifting idea – box of artisanal rices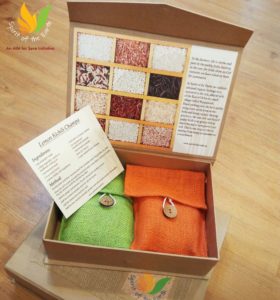 Here is a new gifting idea. Spirit of the Earth, an initiative of AIM for Seva has introduced a 'Box Full of Goodness'.
In these hand-crafted gift boxes, customers can choose from a range of freshly harvested artisanal heritage rice for their family and friends. Each rice variety comes with a recipe card.
Available in two shapes and sizes, and have up to to 4 selections. Boxes come in 500 gms and 1 kg and the prices start from Rs.300
This entry was posted on Tuesday, February 6th, 2018 and is filed under
Lifestyle, Stores
. You can follow any responses to this entry through the
RSS 2.0
feed. You can skip to the end and leave a response. Pinging is currently not allowed.