Excelling at martial arts: Students of local karate school win prizes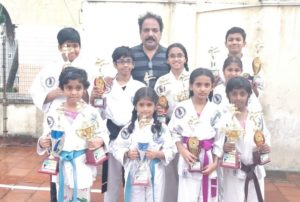 At the district karate tournament organised by the International Shotokan Karate-Do organisation on Aug 5 in the city recently, 17 students from Mylapore based Boufuuukai Isshinryu Karate School participated in 26 events and won 20 prizes.
Two, eight and ten students won the first, second and third prizes respectively. S. Vaishnavi and M. Varun, both aged 7 years old, were the youngest participants from the School.
The school, which celebrated its 20th anniversary last year, is run at three locations by A. R. Sundar in the Mylapore area. For details contact 9840018628.
This entry was posted on Tuesday, August 28th, 2018 and is filed under
Campus News
,
Sports
. You can follow any responses to this entry through the
RSS 2.0
feed. You can skip to the end and leave a response. Pinging is currently not allowed.