Police detain Abiramapuram resident who flaunted fake designations on car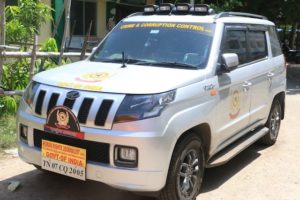 Police have arrested a resident of Abiramapuram for travelling around in a car which had many stickers of media, human rights and social organisations though he had nothing to do with them.
There was even a 'Govt. of India' legend painted on the Mahindra vehicle which was fitted with extra fog lamps to give the impression that it was a vehicle of a VIP.
The car was stopped during routine vehicle checks that police undertake at night. The man in the car was also carrying a pair of handcuffs, police said. It is not clear why the stickers were flaunted on the windscreen of the car.
The car was confiscated and a case registered against the man. Abiramapuram police are handling this case.
This entry was posted on Monday, September 3rd, 2018 and is filed under
Crime, Law & Order
. You can follow any responses to this entry through the
RSS 2.0
feed. You can skip to the end and leave a response. Pinging is currently not allowed.