Special students of Ekadaksha celebrate Krishna Jayanthi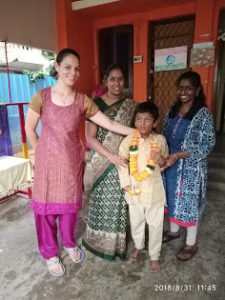 At Ekadaksha Learning Centre, a special school at Jeth Nagar, tradition, fun and learning was incorporated into their Krishna Jayanthi celebrations.
The students were divided into teams and games were played. The prizes won by each team was used to decorate an idol of Lord Krishna. After an aarti, snacks were distributed to the students.
The day ended with a round of bhajans.
This entry was posted on Tuesday, September 11th, 2018 and is filed under
Campus News
,
Community
. You can follow any responses to this entry through the
RSS 2.0
feed. You can skip to the end and leave a response. Pinging is currently not allowed.