Meditative music at this Luz apartment, every morning. Early.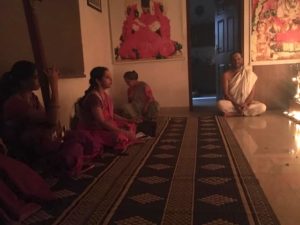 Vocalist K. Gayatri launched the 2018 edition of the Prabhata Sangitam series of margazhi concerts some days ago at this Luz apartment. A series that ends on Jan.13, 2019.
The drawing room of an apartment owned by a lawyer couple becomes a music hall for three weeks beginning Dec. 25, every year.
The family of Venkataraman, music rasikas, hosts 'Prabhata Sangeetham'.
The concerts are held from 5.30 a.m. to 6.30 a.m. No mikes are used and the concert hall is lit up only with traditional oil lamps. The singers perform solo without any accompanying instruments.
Rasikas can attend though space is limited. A very meditative experience this.
Address – AS -2 Pallava Heights, Luz Avenue 5th Street, Mylapore
This entry was posted on Friday, December 28th, 2018 and is filed under
Arts
,
December Season 2018
. You can follow any responses to this entry through the
RSS 2.0
feed. You can skip to the end and leave a response. Pinging is currently not allowed.