New restaurant atop R. R. Sabha complex promotes itself with food cart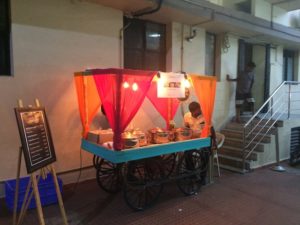 Restaurants keep opening often, and some close too as quickly in the Mylapore area. One new food place is called The Spoonfeed Restaurant; it has a great location. On the terrace of the Rasika Ranjani Sabha complex on Sundareswarar Street, Mylapore, the streets that runs off East Mada Street.
The place is over a fortnight hold and Sudharma Vaidyanathan, a talented young Bharatanatyam dancer who promotes this place along with her parents, says those who have been up there and dined like the ambience a lot.
To promote the place, Spoonfeed has a food cart that is sometimes stationed outside the sabha complex or perambulates a bit. Last weekend, it was in the campus of Bhavans, serving artistes and guests at the festival to commemorate guru K. J, Sarasa.
Tastefully decorated and offering a menu of short eats, it got most people's attention and did some cool business too.
This entry was posted on Monday, February 18th, 2019 and is filed under
Restaurants, Food fest, Stores
. You can follow any responses to this entry through the
RSS 2.0
feed. You can skip to the end and leave a response. Pinging is currently not allowed.