Elections 2019: Campaigners target churches, colonies at daybreak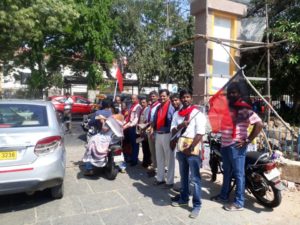 As the Lok Sabha election polling day draws closer and being a Sunday, campaign troupes of parties in the fray in South Chennai hit the roads early today.
Many groups first targeted people who attended services at local churches – in R. A. Puram, San Thome and in Abiramapuram. They distributed colour pamphlets as people streamed out after the Palm Sunday services.
But minutes later, these pamphlets were seen on the streetside, some hundreds of them.
At the Ambedkar Memorial where many functions were lined up to celebrate Ambedkar's birth anniversary, a BSP candidate and his supporters also massed up in and outside the campus off MRC Nagar. Though lots of policemen were deployed here, traffic slowed down because of the large crowd here and people headed to Sri Ayyappa Temple.
The daytime temperature has been soaring and campaigners have made the most of the morning hours to reach out to people.
Photo courtesy: Xavier Augustine
This entry was posted on Sunday, April 14th, 2019 and is filed under
Elections 2019
. You can follow any responses to this entry through the
RSS 2.0
feed. You can skip to the end and leave a response. Pinging is currently not allowed.