Chennai South MP visits Parliament House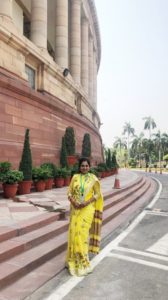 The newly-elected Member of Parliament for Chennai South, Thamizhachi Thangapandian has been in Delhi this past week to prepare for the first session of the 17th Lok Sabha.
She posted photos of herself and her MP colleagues of the DMK party at Parliament House.
The new Lok Sabha is convened on June 17 and will sit till July 26.
The first two days will be devoted to the sweating-in of new MPs. The President's address will follow. The budget will also be presented during this session.
This entry was posted on Friday, June 7th, 2019 and is filed under
South Chennai MP
. You can follow any responses to this entry through the
RSS 2.0
feed. You can skip to the end and leave a response. Pinging is currently not allowed.