This mada street shop offers variety of mangoes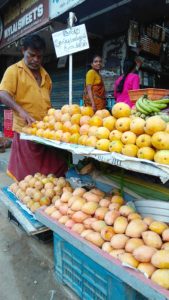 P. Annamalai, a banana vendor, now sells a variety of mangoes at his pavement shop off South Mada Street, Mylapore.
Varieties include Banganapalle, Rumani, Sindoora, Jawahar, Kilimookku and more.
Among them, Banganapalle seems to be the favourite among shoppers here.
A signboard at his shop says, "Thope (farm) mangoes are sold here."
Explains Annamalai, "I started selling organic mangoes lately. I buy mangoes from dealers who own mango farms on the fringe of the city. This year, I have bought from a mango farm on ECR road."
K. Nataraj, a shopper says," I have been buying from Annamalai for many years. They are all naturally grown, and they are of good taste."
All the mangoes are ripe. Annamalai says, "I should sell these within two days otherwise the mangoes will spoil."
Banganapalle is priced at Rs.70 per kilo.
This entry was posted on Tuesday, June 4th, 2019 and is filed under
Sales, Shopping
. You can follow any responses to this entry through the
RSS 2.0
feed. You can skip to the end and leave a response. Pinging is currently not allowed.