Power breaks down on Mada Streets, restored late evening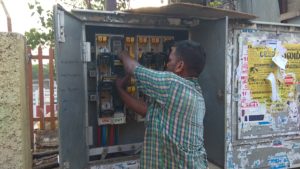 There has been a power break down on the Mada Streets since 1 p.m. Friday.
TANGEDCO workers say this was due to power overload at the junction box off Kapaleeswarar East Tank Square Street.
Due to this, power went off at all the Mada Streets around Sri Kapali Temple.
‌TANGEDCO workers from Mandaveli office were seen working at the junction boxes. "We took three hours to find the exact location of fault. This happens very often during summer as many shops and residents run their air conditioners continuosly," says Arokyadas, a TANGEDCO official who is working here.
They located a underground cable that was burnt due to overload.
Frustrated residents and shop owners are seen sitting or walking outside on the road to get some respite from the heat.
Update posted at 7 p.m: Power was restored at about 6.45 p.m.
This entry was posted on Friday, June 7th, 2019 and is filed under
Civic
,
Govt. Agencies
. You can follow any responses to this entry through the
RSS 2.0
feed. You can skip to the end and leave a response. Pinging is currently not allowed.