Commuters face problems due to water stagnation at Thirumayilai MRTS station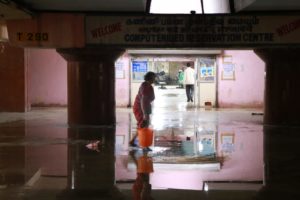 On July 17, due to the water stagnation near the Passenger Advanced Reservation Counter, on the first floor of Thirumayilai MRTS station, off R.K.Mutt Road, commuters say many passengers, including seniors have slipped and fallen on the slippery floor.
Viswanathan Ganesan, a resident of Mylapore says, "Following the recent rains, water has been leaking from the  railway track above this floor. Yesterday, when I went to book tickets, more than 10 persons slipped and fell down and most of them were senior citizens. Many others, including me, faced difficulty in walking. The floor more slippery as the station has a granite flooring."
Viswanathan says that there was no railway staff to clean the wet floor also."Only this morning (July 18) they have started clearing the area," he says
"I have also complained to the Grievance cell at the Egmore Railway Station regarding this," he adds
This entry was posted on Thursday, July 18th, 2019 and is filed under
Civic
,
Govt. Agencies
. You can follow any responses to this entry through the
RSS 2.0
feed. You can skip to the end and leave a response. Pinging is currently not allowed.