Film enthusiasts meet up to discuss Rajinikanth and his films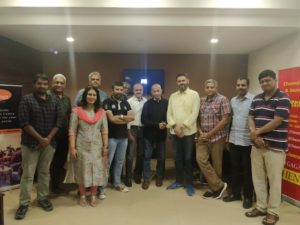 A group of cinema enthusiasts led by writer P. C. Bala gathered on August 30 at Cream Centre in R. A. Puram to discuss the theme 'Madras and Movies' as part of Madras Day celebrations.
Actor Raja Krishnamurthy, popularly known as Kitty joined the movie buffs over samosas and coffee. He was quizzed by S. Shriram, a 'Madrasi-for-life' and a Rajinikanth fan and the chat was on actor Rajinikanth and his film career.
Kitty spoke on his early days in movies, his association with iconic films like 'Roja' and 'Thalapathy' and of his acting stints with Rajinikanth.
Kitty spoke on how specific scenes in films like 'Thalapathy' and 'Baasha' turned out during the shooting and on Rajinikanth's spiritual bent in life.
This entry was posted on Saturday, August 31st, 2019 and is filed under
Madras Week
. You can follow any responses to this entry through the
RSS 2.0
feed. You can skip to the end and leave a response. Pinging is currently not allowed.