R. A. Puram Church feast: flag hoisted to mark launch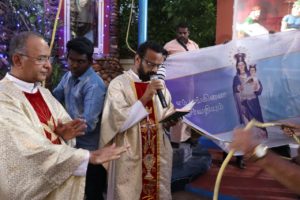 The flag has been hoisted at Our Lady of Guidance Church in R. A. Puram to signal the start of the annual feast that celebrates Mother Mary.
Popularly known as St. Lazarus Church, this feast of a very old parish of the city diocese is one of the two that is celebrated grandly by the parishioners. The other is the feast of saint Lazarus.
The flag hoisting was a solemn event though youths sent balloons into the air and women held up flags bearing the image of Mary to add some colour to the religious event.
Novenas will be said daily at the church: the feast day is on August 15.
This entry was posted on Saturday, August 10th, 2019 and is filed under
Uncategorized
. You can follow any responses to this entry through the
RSS 2.0
feed. You can skip to the end and leave a response. Pinging is currently not allowed.