Railway police step up security at Thirumayilai MRTS station main entrance to prevent drunken men from creating nuisance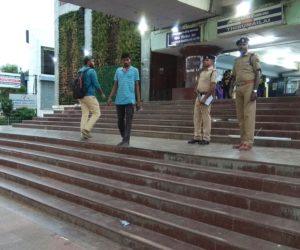 Commuters passing by the Thirumayilai MRTS station or entering or leaving its premises no longer have to deal with the nuisance created by drunken men at the staircase at entrance of the station.
The Railway Protection Force (RPF) has recently appointed a few guards at the entrance of the station to keep these men away.
There are three TASMAC shops near this station and the area alongside the station becomes a hangout for the men  who have had a drink.
"We received lots of complaints from public of these men being on the station's premises. Hence, we are taking action now," says Paramasivan, Sub Inspector, RPF.
On Aug 27 evening, when a group of drunken people were quarreling among themselves, four guards had to take them away.
Paramasivan says that they monitor the place round the clock.
Ezhil, a regular commuter says, "I find lots of drunk men blocking the way and disturbing us commuters especially the women. For sometime, I like many women even stopped using this station as I felt unsafe. But now that the guards are here the passage is free. I hope this continues everyday."
This entry was posted on Tuesday, August 27th, 2019 and is filed under
Civic
,
Community
,
Crime, Law & Order
. You can follow any responses to this entry through the
RSS 2.0
feed. You can skip to the end and leave a response. Pinging is currently not allowed.