Hawkers start displaying golu dolls for Navarathri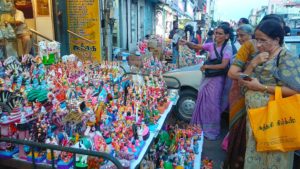 Navarathri is not far away and Mylapore's mada street hawkers have started setting up golu dolls at North Mada Street, Mylapore.
This year, the doll of lord Athi Varadar seems to be in great demand. Pieces have been set up in almost all stalls.
Meenakshi and her friend eagerly picked a small idol of Athi Vardar to take a look at it but since it was priced high, they decided to hold back their shopping – hoping prices will drop.
Anticipating rain, many hawkers chose not to spread their items. Weekends are busy for these hawkers but many shoppers say that prices of kolu dolls have sky-rocketed.
This entry was posted on Friday, September 13th, 2019 and is filed under
Sales, Shopping
. You can follow any responses to this entry through the
RSS 2.0
feed. You can skip to the end and leave a response. Pinging is currently not allowed.