Untapped rainwater gets wasted at North Mada Street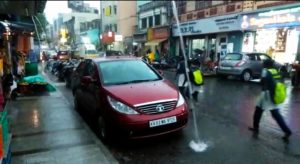 Every time when it rains, huge volumes of water from the rooftops of several shops surrounding Sri Kapali Temple gets wasted and floods the mada streets. This was the scene at North Mada Street a few days ago.
"Don't these shops have Rain Water harvesting facility?," comments Sathish Rajamani on a video post on this issue posted on the Facebook page of Mylapore Times.
This entry was posted on Tuesday, September 10th, 2019 and is filed under
Civic
,
Monsoon 2019
,
Rain Water Harvesting (RWH)
. You can follow any responses to this entry through the
RSS 2.0
feed. You can skip to the end and leave a response. Pinging is currently not allowed.