Smart vehicles launched to patrol service road in Marina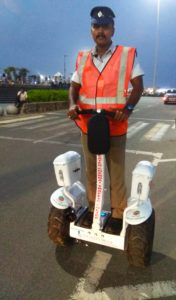 To improve surveillance in Marina's service road, two Smart Traffic patrol vehicles have been launched by the Chennai Traffic police. Manufactured by a company called Freego, the vehicle is self-balancing and is equipped with sensors and a siren.
Besides providing faster mobility to the traffic police, it also allows them to view violations from a distance. A traffic police who was patrolling this evening said a team of four women squads are also posted here to handle women traffic offenders.
This entry was posted on Thursday, December 19th, 2019 and is filed under
Civic
,
Crime, Law & Order
. You can follow any responses to this entry through the
RSS 2.0
feed. You can skip to the end and leave a response. Pinging is currently not allowed.