Students of Children's Garden School raise funds for cancer patients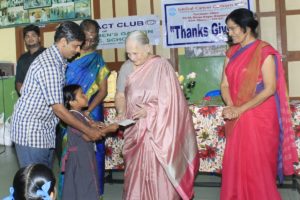 An awareness and fund raising programme for poor cancer patients was held at Children's Garden School, Mylapore recently. More than 1.75 lakhs was raised by the students and staff towards this programme and handed over to Global Cancer Concern India (GCCI).
Padma Venkataraman, alumni, social worker and daughter of former president R. Venkataraman distributed mementos and gifts as a token of gratitude to the children who had collected the highest amount. 18 students from 7 schools in Chennai received scholarship cheques from GCCI.
This entry was posted on Tuesday, December 10th, 2019 and is filed under
Campus News
,
Community
. You can follow any responses to this entry through the
RSS 2.0
feed. You can skip to the end and leave a response. Pinging is currently not allowed.