Aavin milk card holders face problems to renew monthly milk cards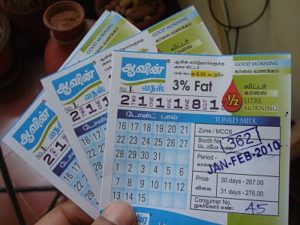 Following the lockdown, Aavin milk cardholders in Mylapore are facing severe hardship to renew their monthly milk cards.
Earlier, they could renew their cards at the nearest Aavin booths.
However, after the lockdown, milk cardholders are asked to visit the Aavin office at C.P.Ramaswamy Road, Alwarpet (on first floor of Aavin Parlor) to get their cards renewed.
In addition, people say they are facing problems to reach the office due to lockdown restrictions.
Community activist Bhaskar Sheshadri says that C.P. Ramaswamy Road is barricaded on both sides (towards R.A. Puram side and C.V Raman Road side). Hence, people coming from these directions on two-wheelers have to take a roundabout route to reach the office.
On Tuesday, Soundararani K.V.K, a resident of Mylapore said, "I had to walk through the barricades to reach the office to renew my milk card. People stood in a long queue to get their cards renewed."It will be good if the renewal process is made more organised, " she says.
Says a staff at the Aavin office here, "We run 38 booths in the neighbourhood. Earlier, we would distribute the cards at all booths. So people could renew cards from the nearest booths itself. But now, police is restricting us from going out to distribute milk cards."
"As a result, everyday close to 150 people, are dropping at this office to renew their cards. Also, it is taking time to issue the cards as we are short-staffed."
The staff, however, says that they are taking precautions to prevent the virus spread. "We have designated one staff to see if people are maintaining social distancing."
Milk card issue timings at this office is 8 a.m. to 1 p.m. on all days except Sundays.
Picture courtesy: deepaknammaarea.blogspot.com
This entry was posted on Wednesday, April 8th, 2020 and is filed under
Community
,
Corona Virus News
,
News
. You can follow any responses to this entry through the
RSS 2.0
feed. You can skip to the end and leave a response. Pinging is currently not allowed.