Very few people are stepping out unnecessarily, say Mylapore Police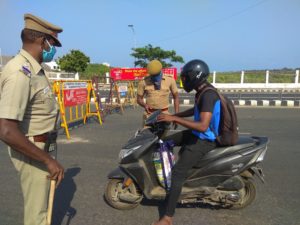 Mylapore police say that very few people are stepping out unnecessarily during the lockdown period.
Since lockdown, police officers are deployed at various places in the neighbourhood to restrict the movement of people.
Says a police officer from Law and Order department of Mylapore Police Station, Kutchery Road, "Very few people are coming out unnecessarily. We have been booking only two or three people for violation daily."
FIR is filed against them and a fine amount specified by the Madras High Court is also collected from them, he says.
The police are also frequently patrolling the neighbourhood to desist people from stepping out without reason.
This entry was posted on Friday, April 3rd, 2020 and is filed under
Corona Virus News
,
Crime, Law & Order
,
News
. You can follow any responses to this entry through the
RSS 2.0
feed. You can skip to the end and leave a response. Pinging is currently not allowed.