DCP thanks NGOs, community leaders working on front line. Meeting held Sat. morning.
A meeting called by DC of Police, Mylapore zone, Suman Shekhar this morning in Mylapore was a p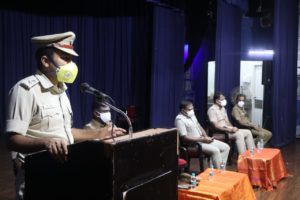 asse one.
Those at Bharatiya Vidya Bhavan's main hall, where the a/c was shut off and people asked to sit afar from each other was attended by NGOs and community leaders who have worked along side the police in battling the pandemic.
The DCP thanked each one of them and gave them some tips on future course of action.
This entry was posted on Saturday, May 23rd, 2020 and is filed under
Community
,
Corona Virus News
. You can follow any responses to this entry through the
RSS 2.0
feed. You can skip to the end and leave a response. Pinging is currently not allowed.