This Alwarpet family is getting to spend more time with their pet dog during lockdown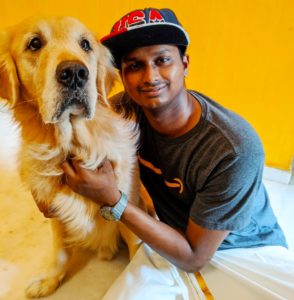 Thanks to lockdown, toby, a 6 and half-year-old golden retriever is getting undivided love and attention from its owners.
Bhuvana Panchanath and family from Ashiana Apartments in Alwarpet have been taking care of this male dog for the past few years.
Now, Bhuvana says her family is able to spend more time with the dog due to lockdown.
Says Bhuvana, who works for a marketing firm, "Prior to lockdown, all of us would go out for work. And toby would be alone at least for a few hours in the morning. But now, due to lockdown, we are working from home. Hence, we are able to spend more time with toby and he is very happy."
In fact, he is eating more food as the entire family is home.
Bhuvana says that they shop pet food online. And in the evenings we walk toby within our apartment premises. Earlier, we used to take it for long walks outside our complex. But, after lockdown, we are unable to do that, she says.
"My husband and son Ashok too love playing with toby. Its presence is keeping our mood light and happy during trying times."
Now, that toby is used to their presence through the day, Bhuvana wonders how they would manage the dog once lockdown ceases.
Picture features : Bhuvana'son Ashok with the pet
This entry was posted on Wednesday, June 17th, 2020 and is filed under
Corona Virus News
,
People
. You can follow any responses to this entry through the
RSS 2.0
feed. You can skip to the end and leave a response. Pinging is currently not allowed.