Tribute: K. V. S. Raghavan, senior resident of R. A. Puram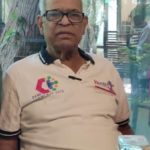 K. V. S. Raghavan, aged 76 years and a senior R. A. Puram resident passed away due to cardiac arrest  on May 17.
A company secretary by profession, Raghavan had a degree in B. Com, LLB and completed the ACS (India and London).
He was also one of the earliest member of the Institute of Company Secretaries.
Having spent his youth in Calcutta, Raghavan came to settle down in R. A. Puram where he and his family has resided for last 35 years.
Raghavan was an active participant in seminars, quizzes and kutcheris, says Sreya Raghavan, his daughter. He was fondly called 'Gopu' by his close friends and family, she adds.
He was a regular at the local public Library in R. A. Puram and loved reading. He was also a globe trotter and had travelled to over 15 countries when he was working with SAS early in his career.
His quest for knowledge and cheerful nature will always be remembered, says Sreya.
He is survived by his wife and two daughters who are married and settled in Bangalore. The Raghavan family can be reached at 15, Canal Bank Road, R. A. Puram, Ph: 9941519621.
(()) WANT TO MAIL A TRIBUTE / OBITUARY to this newspaper? Please mail us 10/12 lines on the person and attach a sharp, clear photo too. Mail – mytimesedit@gmail.com
This entry was posted on Wednesday, June 10th, 2020 and is filed under
Obituaries
. You can follow any responses to this entry through the
RSS 2.0
feed. You can skip to the end and leave a response. Pinging is currently not allowed.