Varalakshmi nombu falls tomorrow; Sri Vijaya stores in Mylapore has variety of varalakshmi nombu sets for sale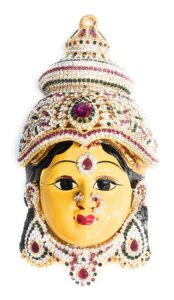 Varalakshmi nombu falls tomorrow (July 31). And so Sri Vijaya Stores at North Mada Street, Mylapore has begun selling all essentials for celebrating the festival.
The store has stocked varalakshmi nombu sets in different sizes for sale. Individual items for the nombu can also be bought separately.
Each set would include goddesses face/idol, and jewels for goddess.
Every year, around this time, people throng this popular store to buy items for varalakshmi nombu, a festival dedicated to goddess lakshmi.
However, this year, staff at the store say the footfalls are low due to lockdown.
Says a staffer here, "Sales were less till yesterday. But people are steadily dropping in since afternoon. We hope to make decent sales until tomorrow noon, as the ritual is usually performed tomorrow evening."
Price of the varalakshmi nombu set ranges from Rs 1000 to Rs 4000 depending on size. The store follows necessary regulations to prevent virus spread.
At 78, North Mada Street, Mylapore. Open from 10 am to 6 pm. Ph:24957555
Picture used for representation; courtesy: amazon.in
This entry was posted on Thursday, July 30th, 2020 and is filed under
Corona Virus News
. You can follow any responses to this entry through the
RSS 2.0
feed. You can skip to the end and leave a response. Pinging is currently not allowed.