More shoppers check out kolu bommai stalls but hawkers not happy with sales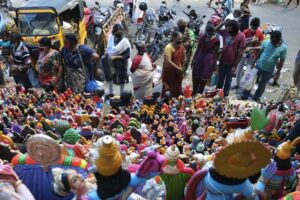 Finally, the shoppers began to stream into North Mada Street in Mylapore to take look and shop for bommais for this Navaratri season.
They kept coming in since 4 p.m. and some took home bommais that appealed to them.
Hawkers had added more bommais to their display on Friday, expecting a good shopping crowd on the weekend. But that did not happen on Saturday.
Even on Sunday, a few hawkers said that the sales were just average and not as good as the previous years.
This entry was posted on Sunday, October 11th, 2020 and is filed under
Shopping, Stores
. You can follow any responses to this entry through the
RSS 2.0
feed. You can skip to the end and leave a response. Pinging is currently not allowed.