Covid vaccine: dry run held for health workers at San Thome health centre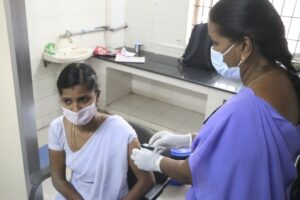 Chennai Corporation has started today what it calls 'dry runs' of administering the vaccine against Covid-19.
One such exercise was held today, January 2 at the Public Health Centre of San Thome zone located on Appu Street.
State health secretary J. Radhakrishnan and his team was present.
A senior doctor of Chennai Corporation told Mylapore Times that while the local staff were trained on procedures to follow to administer the vaccine, some 25 health workers who have already been listed to be among the first lot to receive the vaccine when it arrives here were also asked to attend the dry run session and go through the 'dummy' steps.
The doctor of GCC says while all the resources needed by each centre is available the steps to be followed by a team of 4/5 staff in administering the vaccine is crucial and this was the focus in today's training.
She said they expect the vaccine to arrive in two weeks time. But it will not be administered daily but according to a time table that is being drawn.
This entry was posted on Saturday, January 2nd, 2021 and is filed under
Community
,
Corona Virus News
. You can follow any responses to this entry through the
RSS 2.0
feed. You can skip to the end and leave a response. Pinging is currently not allowed.