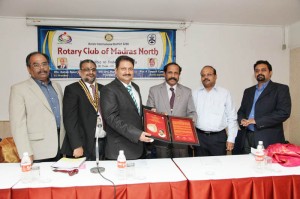 The Rotary Club Of Madras North conferred the Vocational Excellence award on Sanjay Pinto, Resident Editor (Consultant) of NDTV 24×7 and a resident of Alwarpet.
The award was presented by R. Nataraj, Chairman, Tamil Nadu Public Service Commission at a function in Mylapore.
The award was in recognition of Sanjay Pinto's contribution to society through his journalism over the last decade and a half. Sanjay Pinto has championed the cause of the common man in his stories and spearheaded campaigns like the 'Search For Thamana' (a little girl who had gone missing from the Marina Beach last year) and 'Save Baby Ganesh' (mobilising financial aid for a 2 year old baby who sustained severe brain damage after he fell into a drain near the Kotturpuram railway station.
P. H. Arvindh Pandian, Additional Advocate General – Tamil Nadu, Aruna R. Krishnan, Editor, Ritz and Southscope, K. Srinivasan, Vice President – Polaris and Hari Shankar Mani, Advocate were present on the occasion.