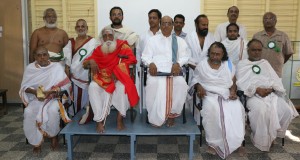 The Madras Sanskrit College recently held an alumni meet in the college campus. Though it looks very modest, the college draws many aspirant scholars from all parts of the country. The college was started in 1905.
The AATMAS (Alumni Association of Madras Sanskrit College) had organised the alumni meet this year as a meeting point for old and new students of the college. It was a platform for the octo- and septegenarions to have a close interaction with the students who have just completed their PG and share their experiences.
The meet also had a special purpose – the association collected data from the year of inception 1906 and honored alumni who are 80 years and above, who have made a mark in the field of Sanskrit and who have earned fame not only for themselves  but also for the college.
Senior among them is A.Ramakrishna Dikshitar, aged 93, whose lineage can be traced to Appayya Dikshitar. He was a student of 1933 batch. He was also the Asthana Vidwan of Sri Kanchi Kamakoti Pitam for more than five decades.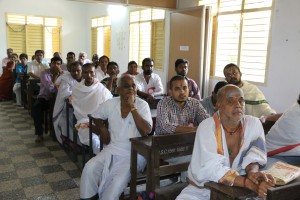 Another dignitary is S. Sambanda Sivachariyar, 90, (President Awardee 2014). Seshadrinatha Sastrigal, 81, former Principal of the college; T. S . Anantanaraya Somayaji, T. P. Sundaresan, 80; R. Krishnamurthy Sastri (President awardee 2014); V. R. Venkatrama Shastri, 83; U. Ve. Vasudevachariyar; Thanjavur N. Srinivasan (record holder among alumni for publishing 33 books from unpublished manuscripts); P. V. Rangadorai (Award – best teacher from Andhra Pradesh government) were all felicitated in the function.
The main function started at 4.00 pm. After honoring the dignitaries, a Sanskrit Drama 'Maithreem Bhajatha', written and directed by the principal N. V. Deviprasad, was enacted. This was followed by Carnatic music vocal by an alumnus, Navneet Krishnan. The whole occassion was graced by acharyas of Kanchi and Vijayendra Saraswati Swamigal gave Anugraha bhashan during the celebrations.