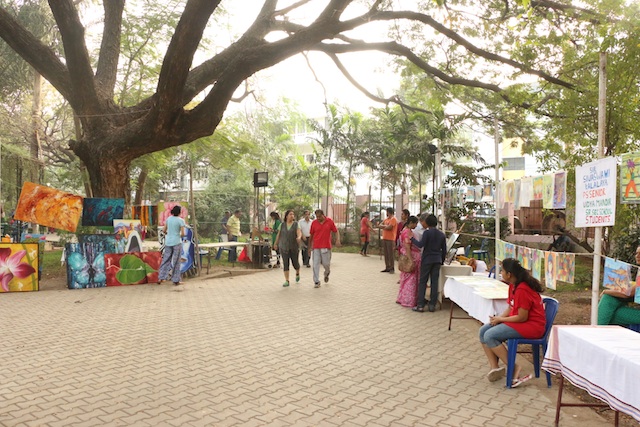 Over 5000 people visited the first edition of Art Mart, an event curated to provide space to artists to showcase their paintings/ art works in the public space. It was held on Sunday, from 8 am to 8 pm at Nageswara Rao Park in Luz.
78 artists took part in this first-of-its-kind event ; they set up stalls in an informal setting in the eastern sector of this large park and then let visitors take in their works.
The artists, mostly residents of the city were also present at their stalls and this allowed people to to interact with them. Some well-known artists like Marudu Trotsy, Keshav of The Hindu and the veteran Maruthi visited the show and interacted with some artists.
There were a few workshops and art contests through the day.
Many artists said they liked the idea of exhibiting in a public space and letting people look at a variety of art works. A few sales also took place. For many people, this was their first exposure to an art exhibition of this nature. Fir many others, it was their first visit to an art show.
The event was curated by a group of art enthusiasts, supported by Mylapore Times and backed by Chennai Corporation.