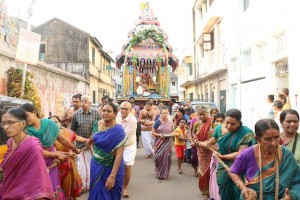 The Tamil calendar is divided into two halves – Utharayanam for 6 months from Thai to Aani (Jan 15th to July 15) and Dakshinayanam for 6 months from Aadi to Margazhi( July 16 to Jan 14). Utharayanam is auspicious for all functions, festivals and celebrations while Dakshinayanam is for spiritual pursuit, fasting, worship and puja.
The Sun God takes the northward journey on Makara Sankaranti (Pongal), starting of Utharayana, and He reaches the optimum point towards north direction on Ratha Sapthami day. Hence this day is very auspicious and an important day to worship Sun God.
All Perumal temples celebrate this day when the Lord is taken in procession on seven vahanas in one day with some intervals. (Thiruther, Garuda, Shesha, Surya, Yanai, Chandra and Hanumantha vahanams).
On Sunday, people celebrated the day at Sri Adikesava Perumal Temple, Mylapore. In the morning, men and women took turns to pull the chariot through the neighborhood streets. The vahanams were taken out at different times.
The story connected with this religious event is that Bhishma pithamaha, who has been blessed with 'Ichcha mrithu' (meaning death according to his wish) while on 'Ambu Padukkai'  wishes that his life should end when Utharayanm arrives. Accordingly he leaves his mortal body and attains Moksha after Ratha Sapthami.
Devotees take head bath by placing erukku ilai with yellow akshadai placed on them. This is believed to pay homage to Bhishma pithamaha and some people believe that this head bath will cleanse the sins of their previous seven births.
Why is erukku ilai used?
Erukku is the leaf of the Sun God like Thulasi to Vishnu and Bilwa to Shiva. Erukku has one pair of leaves in one direction and the next pair exactly in the opposite direction (perpendicular), thus forming a square.
Erukku ilai has also got medicinal values.