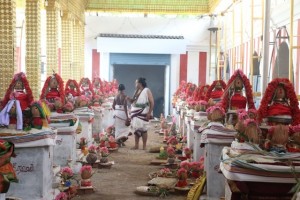 As soon as you enter Sri Kapaleeswarar Temple through the small gate right next to the main eastern entrance on Ponnambalam Vadiyar Street, Mylapore, you cannot miss the massive structure on your right – the golden yagasalai reflecting the sunlight and constructed just for the kumbabhishekam which will be held on April 3.
Temple officials here say that it might just be one of the biggest structures erected for a kumbabhishekam in recent times. Inside this super structure, areas have been cordoned off  – for veda parayanam and for conducting the homam.
More than two dozen homa kundams have been constructed – one for each diety. At the side  of each homa kundam, a small picture describes which deity it is for. In the front a priest sits, chanting mantras and pouring ghee into the fire. He is surrounded with kalasams, wood, flowers and other puja articles.
The second kalam puja took place on March 29. At the entrance two
priests sit – chanting mantras, explaining the significance of the pujas held and making announcements. Devotees, teary eyed from the smoke, crowd around them as the last deepa aradhanai for the morning session is being held. The sounds of the mridangam and nadaswaram fill the air.
A walk further down, past the temple office on the right, reveals a group of foreigners taking pictures and asking questions. Three groups of priests – each group consisting of about 10 priests are conducting veda parayanam and chanting mantras. Nearby a group of officials are supervising the arrangements and giving instructions.
Outside the yagasalai, a small crowd has gathered near the Vinayakar sannidhi.
Preparations are going on to apply the Ashtabandham or a natural adhesive (which takes the shape of a small ball) to fix the idol to its base. Volunteers take turns to pound the ball and the ritual begins.
The kumbabhishekam rituals began on March 25 and will end with the maha kumbabhishekam on Sunday. Twelve kalam poojas will take place – the twelfth being on April 3 morning. Poojas are being held both in the morning and the evening and this will continue over the weekend.
On April 3, the rituals will start at 5 a.m. A mahapoornahuti will be held at 7.15  a.m. followed by the pradana kalasangal purappadu. The maha kumbabhishekam for the mahagopuram and all the vimanams will be held simultaneously from 8.30 a.m. onwards. The  maha abhishekam will be held at 11 p.m.