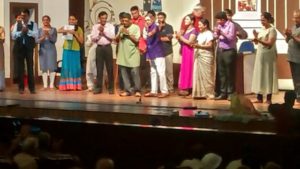 Kartik Fine Arts hosts the Kodai Nataka Vizha which takes place annually. Started in the year 1990, it promotes new dramas and theatre.  
This year's edition is currently on at Narada Gana Sabha, Alwarpet. It ends on May 3.
Plays are held every evening and they are open to all. 
On Friday, 
Vivahamalai.com
, written by P.Muthukumaran was staged.
It runs for two hours and focuses on two marriages. One between an engineer and a woman who supports feminism and the other between the engineer's friend and the woman's relative. 
It talked about the different conditions put forward by women when alliances are discussed. The alliances come through via a matrimonial website, Vivahamalai.com.
There are many twists in the play.
The play was crafted very well. The audience were able to connect with the different characters of the play. It was filled with humor and the audience couldn't stop laughing. 
At the end of the 12-day drama fest,  prizes are awarded to the best play, best director, best actor and best story, says the sabha secretary, R. Venkatasubramanian.
This year, the fest is dedicated to Cho Ramaswamy, the well known playwright and commentator.
The best reviews from the audience are also awarded prizes.
– Reported by Ananth Ram/ Journalism Trainee at MT