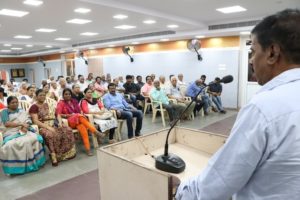 Land acquisition notices were sent to all people in the Mylapore neighbourhood who were to be affected by the Corridor 3 and 4 of Phase 2 of Metro Rail project.
The two corridors will run through Marina-San Thome – Luz – Mylapore – Alwarpet on one side and R. H. Road – Luz – Mandaveli – R. A. Puram on the north-south side.
This past fortnight, groups of Mylaporeans have got together, debated the issues and taken their plea of objections and suggestions to the officers of Chennai Metro at its Koyembedu headquarters.
Many Mylaporeans have also raised please in individual communications to Chennai Metro.
And all of them have been told that their pleas will be presented to the top brass of the Metro. And that they will get a reply.
On the ground though in the neighbourhoods, a host of developments are taking place.
The traders and shop keepers on Kutchery Road are expecting a huge disruption.
In Luz Circle, many shop owners have made plans to seek new rentals to run their business after shifting. Some are in the process of opening at a new address. The same is the case down the south side of R. K. Mutt Road in the congested Mandaveli zone.
Not much murmur has come from residents on Luz Church Road where a station is planned near Sri Anjaneya Temple.
The 150-members strong Alwarpet community though have been united and vocal too – they do not want a station to be located at the TTK Road – K. B. Dasan Road junction. They held a meeting last weekend at Ethiraj Kalyana Mantap ( photo of meeting is used in this report), which is on the acquisition list and then met up with Metro officials on Thursday.
In the weeks to come, a large number of Mylaporeans are going to be bothered about news and plans of Chennai Metro.
This project is to be a major disruptor in 2019. And  the Luz-Mylapore junction is going to be a busy, key rail zone with interchanges of the Metro and the MRTS station alongside.