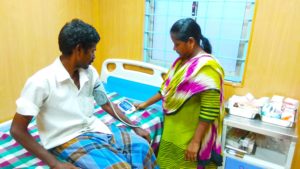 First-Aid kiosks off the Loop Road near the Marina Beach have opened to the public. One of them in on the service road behind Gandhi statue.
A few months ago, Chennai Corporation constructed them under its Swadesh Darshan scheme – mainly to provide first aid to the persons rescued from drowning.
"All the basic medicines for providing first-aid are available here," says Amala a staff nurse from zone 9 of the Health Department, GCC. She works here along with a male helper.
Now, people on the Marina and neighbouring areas can approach these kiosks for immediate relief from minor injuries, fever or low/high BP (blood pressure). A cot and two wheelchairs are also available.
"In case of emergencies, we will refer the patients to Goshen Hospital in Triplicane," she says. On August 21, a street vendor had his BP check-up at the kiosk as he was feeling weak.
She says Chennai Corporation also intends to have an ambulance service from this place.
The services are provided free of cost. Apart from this kiosk, she says there are two other first-aid kiosks near Labor statue and near Kannagi statue – both on the Marina.
The kiosks are open from 6 a.m. to 10 p.m.