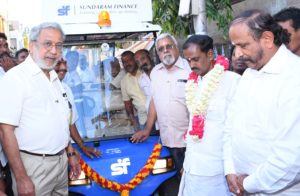 Now, senior Mylaporeans can hop on to an electric golf cart on the Mada Streets and get dropped at the eastern gate of Sri Kapali Temple.
This service, launched on March 12 is funded by Chennai headquartered non-banking finance company, Sundaram Finance which donated two battery-operated golf carts to the temple.
The two vehicles cost over Rs. 12 lakhs.
T T Srinivasaraghavan, MD, Sundaram Finance presented the two vehicles to HR & CE state minister
Sevvoor S. Ramachandran at an event in held front of the Sri Kapali Temple in the presence of Mylapore
MLA, R Nataraj.
The six-seater vehicle will operate outside the temple on the four Mada Streets. The two cars will
pick up people headed to the temple from the Mada Streets and drop them at the eastern raja gopuram.
The vehicles will also pick up devotees from the gopuram and drop them back at appropriate
points on the Mada Streets.
The two battery cars will run between 630am and 12.30pm and in the evening from 4pm to 9pm. The battery will be charged between 12.30pm and 4pm when the temple is closed for darshan.
T T Srinivasaraghavan  said, "These vehicles will enable devotees, particularly the elderly and physically challenged to access this famous temple."