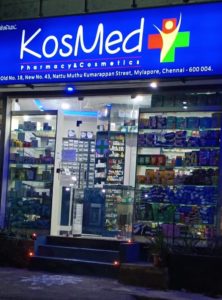 26-year-old Prabhu Vijay and his colleagues at KosMed Pharmacy and Cosmetic store are out on the streets door delivering medicines 24 * 7.
From a single tablet to a bulk medicine order, they deliver it all with no extra charge for delivery. The shop is also open for sales round the clock.
Started in September last year, this shop next to Mandaveli Aavin booth sells medicines and cosmetics. They also have pet food and some cool drinks and ice-creams for sale. The shop is owned by three partners – Vijayavarman, Srinivasan and Venkatesan.
Says Prabhu Vijay, who manages the shop, "Since lockdown, as hospitals treating patients for general medical issues have closed down, people are increasingly depending on medical shops for treating themselves. Hence, we do our best to serve them 24*7."
"We are up all night to serve customers. When orders are less, we take short naps at the shop itself. Then again we are back to work. We go home only to take bath and have food," he says.
The group of four bachelors stay near the shop and manage this work in turns. "Four of us work in turns of 8 hours. In the morning, when all of us are out, a woman staff manages the shop. At home, we have made an arrangement for food parcels, so we can be back to work quickly."
The youngsters being natives of Rameshwaram had come to Chennai a year ago to get a job in the medical line. "This is the first break that the owners of this store have given us. Hence, we are dedicated to doing our best."
He says that they get over 20 orders a day and help around 500 customers in the neighbourhood. "Mostly, people order BP, diabetes tablets or medicines/ diapers for newborns. We get a number of orders for baby diapers at midnight, " he says.
Prabhu and team have also made necessary arrangements to prevent the virus spread.
"We all wear masks and gloves while going for delivery. At the shop too, we allow customers only if they are wearing masks. Also, we deliver medicines at the customer's doorstep and accept online payment if customers prefer it."
When asked if they face any challenges, he says, "While we don't have challenges as such, we sometimes feel bad the way people treat us. Most of them fear we might be virus carriers, and hence hesitate to take medicines or balance amount from us even if we take all precautions."
People who need their service may reach them at 7845602763/ 79649913. The shop is at 18/43, Nattu Muthukumarappan Street, Mylapore.