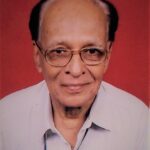 R. Mohan, a resident of Sriram Nagar South Street, Alwarpet for the past 15
years and a senior advocate passed away on Feb.19 at the age of 95 years.
He served as a senior counsel in Madras High Court for more than 60 years. Known for a humble and respectful attitude towards people, Mohan gained the reputation as an eloquent and articulate advocate.
His family said in the High Court, students of law and younger members of the Bar association would flock to watch him in the courts. His excellent court craft, meticulous ethic and his extra ordinary ability to recall barely known facts rendered him as a legal mastermind, the family said.
He was philanthropic and never hesitated to help the needy in both professional and personal fronts.
He is survived by three daughters, sons-in-law, grand children
and great grand children. The family contacted at 9840168565.