Mixed emotions were seen at the gates and inside the schools which re-opened all over again across Mylapore.
The classes for senior students alone opened today. Opened following state government orders at a time when Corona cases have dropped drastically.
School friends just could not but take a walk together back to school, though all of them wore masks. There were parents who dropped off the teens in autos and bikes.
And at the gates of Lady Sivaswami Ayyar Girls School, Mylapore two policewomen held up placards reminding the students of pandemic time obligations. ( top photo)
All schools had entry and screening process beyond the school gates in place and since the flow of students was small, was easy to execute.
At Rani Meyyammai Girls School in R A Puram, half the tables and benches  in classrooms were moved out, leaving a limited number spaced out for the students. The students even got a briefing from senior teachers. ( photo above)
At Savitri Ammal Oriental School in Mylapore, while the school music band pepped up the re-opening, teachers gave roses to students to welcome them back. ( photo below)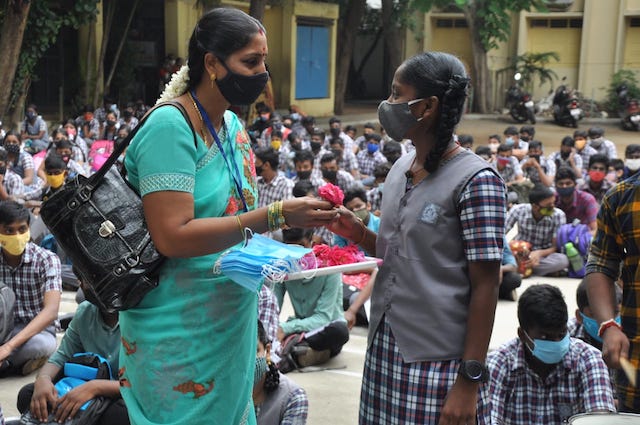 At Vidya Mandir, Mylapore the school office said close to 90% attendance was recorded.