The Sunday Kutcheri in the Park was re-launched this morning at the Nageswara Rao Park by Rajiv Lochan, MD, Sundaram Finance.
The monthly mikeless kutcheri had been organised on the first Sunday of every month for 14 years from February 2006. The pandemic and the lockdown restrictions meant that the event could not be held for two years from April 2020.
Former MD of Sundaram Finance, TT Srinivasaraghavan, who was instrumental in the launch of the Sunday Kutcheri in the Park in February 2006 was present on the occasion and passed on the baton to Rajiv Lochan, the current MD of the company.
Looking back at the mikeless Kutcheri series, Srinivasaraghavan said "I am delighted to be back at the Nageswara Rao Park after two long years, for the resumption of the Sunday Kutcheri in the Park. This platform has served as a launch pad for several budding talents over the past several years and I look forward to many more of them commencing their musical journeys from this unique and charming environ."
"I vividly recall the inaugural kutcheri back in 2006 and it is my fond hope that we will continue to attract exciting young talent like Viswanathan who presented a flute recital this morning."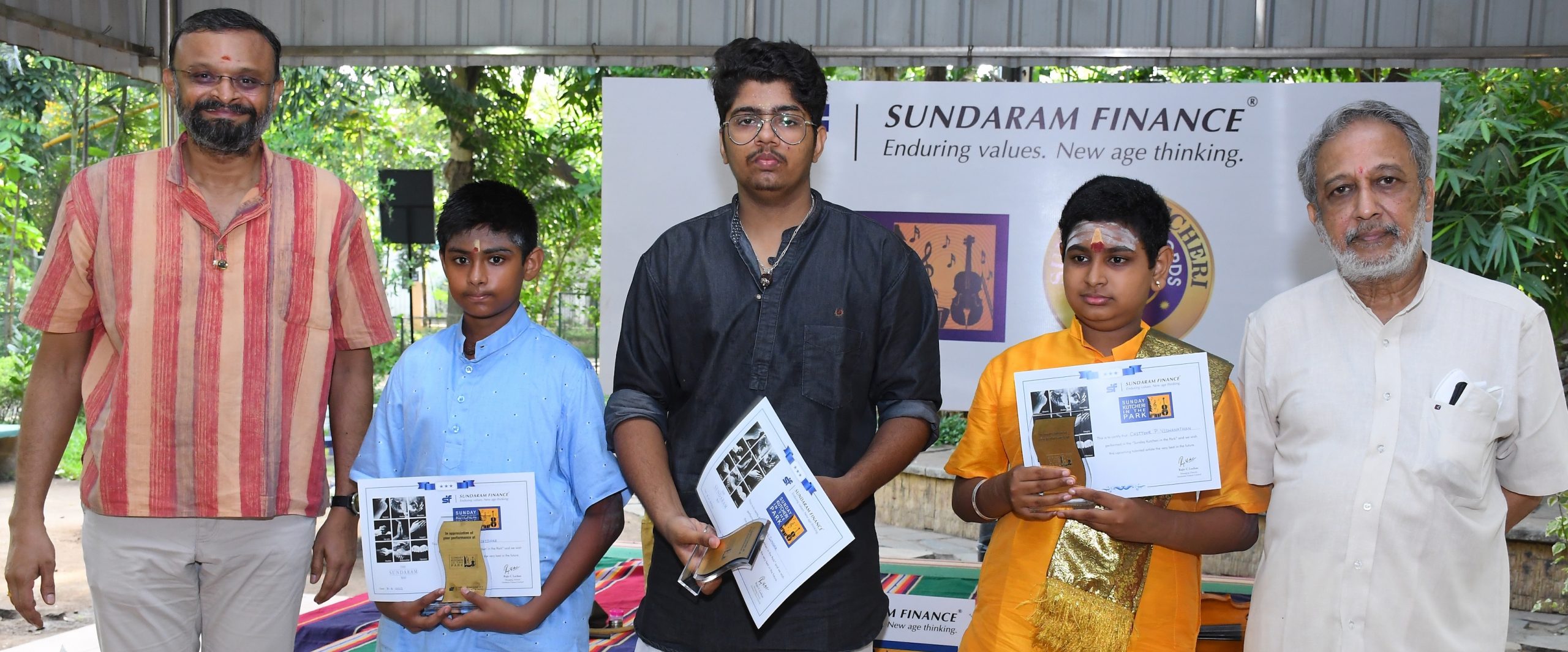 On the occasion of the re-launch, 12 year old P Viswanathan, a student of Hindu Sr. Sec School, Adyar presented a one hour kutcheri from 7 am at the Chess Square area of the park. He was accompanied on the violin by Chittoor A Giridhar and on the mridangam by B Sai Sundar.
Reaffirming his commitment to the monthly kutcheri series, Rajiv Lochan, MD, Sundaram Finance said, "Sundaram Finance is committed to continuing the monthly Sunday Kutcheri in the Park series, providing opportunities to talented artistes."
Srinivasaraghavan handed certificates and mementos to the artistes after the concert. ( Second photo is of the concert artistes seen with Rajiv Lochan, MD, Sundaram Finance on the far left and T T Srinivasaraghavan, former MD, on the far right)