Summer season fruits sold on sidewalk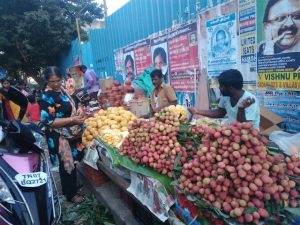 Venkatesa Agraharam's sidewalks turn into a market zone every Thursday when the Saibaba Temple here draws huge crowds of devotees. Now, this market seems to have gained permanency.
And the hawkers are offering summertime delights -a  range of fruits are on sale. Among them mangoes and strawberries.
Photo and report by Nivedita Venkateswaran
This entry was posted on Tuesday, May 22nd, 2018 and is filed under
Shopping, Stores
. You can follow any responses to this entry through the
RSS 2.0
feed. You can skip to the end and leave a response. Pinging is currently not allowed.