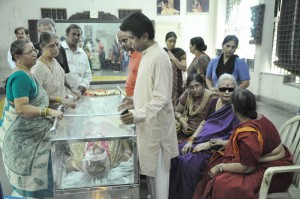 One of India's famed dance gurus, Vempati Chinna Satyam has died. He was a Kuchipudi artiste and guru and a resident of Raja Annamalaipuram, in the south east corner of the Mylapore neighbourhood.
He was 83. He passed away on Sunday, July 29 morning after a long period of illness.
The funeral is scheduled for July 30 evening, his family said.
A Padma Bhushan awardee, Chinna Satyam hailed from Kuchipudi village in coastal Andhra Pradesh and was one the stalwarts in Kuchipudi dance, being a great performer in his dancing career, and ideating a number of dance productions and teaching a large community of students.
He made Madras his home and the state donated a piece of land in R A Puram to set up his dance academy and his residence.
The academy is on Bro. DGS Dinakaran Road, near the main gate of the Adyar Poonga nature reserve.
Contact Vempati Venkat at 9840077376