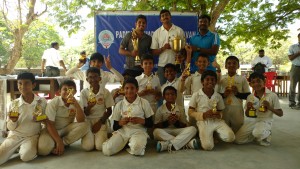 At the inter-school tournament conducted by PSBBSS School, K. K. Nagar, the under-10 cricket team of Chettinad Hari Shree Vidyalayam emerged champions. They beat PSBB Millennium by 63 runs in the finals held on Feb 24. 'The team consists of IV and V graders who are very excited by their maiden win in an inter-school tournament', says coach Senthil.
Dhruv (Vth) was awarded 'Best Player of the Tournament' while Vishnu (IVth), with 9 wickets overall, was the 'Best Bowler of the Tournament'. Vishal (Vth) and Arjun (Vth) were given the 'Best All Rounder / Promising Cricketer' awards. Vaibhav, with a four wicket haul, bagged the Man of the Match award for the finals. 
Twelve schools participated in the tournament. Hari Shree beat PSBB T. Nagar and P. S. Senior Sec. School to qualify for the semis, where they won against hosts PSBB K. K. Nagar. Aakash (Vth) 65 runs, Aadhav (Vth) 79* , Dhruv 71 and Shabbir (Vth) 4 wickets, were awarded the 'Man of the Match' for these matches.