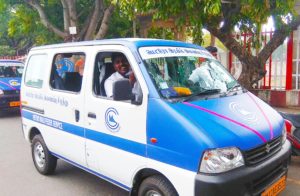 Recently, Chennai Metro Rail Limited (CMRL) in collaboration with Bengaluru based Megacabs Private Limited launched feeder cab services to provide last-mile connectivity to its commuters in and around the city. Now, this service has come to Mylapore.
Two cabs that can seat around 10 people are dedicated to this purpose. They are meant to take commuters from Mylapore bus stop off Sri Kapali Temple tank to the nearest Nandanam Metro station and vice-versa.
The fare for both these trips is Rs 10. "In addition to cash payment, commuters can also use the Metro travel cards for making payments," says Goutham, driver of the feeder service cab.
"People traveling to Nandanam, not necessarily to board the Metro Rail may also use this service," he adds.
He says a cab service will be available from Mylapore Tank bus stop at every 10-minute interval.