Animal welfare award for Maneka Gandhi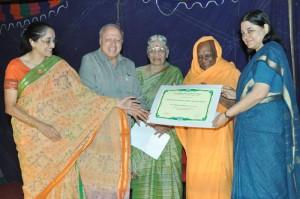 The first Rukmini Devi Arundale Animal Welfare Award was given to Maneka Gandhi, M.P. on January 30 at C.P. Ramaswami Aiyar Foundation.
The award was presented by Dr. M.S. Swaminathan, Chairman, C.P.R. Environmental Education Centre in the presence of His holiness Sri la Sri Nachiappa Gnanadesika Swamigal, Chairperson of Rukmini Devi Arundale trust.
Cultural programs were performed by the students of The Grove School. Also present were Nanditha Krishan, director and Dr. Sarojini Varadappan, President of C.P. Ramaswami Aiyar Foundation.
Seen in the picture are (L – R) Nanditha Krishan, M.S. Swaminathan, Sarojini Varadappan, Sri Nachiappa Gnanadesika Swamigal and Maneka Gandhi.